2K Sports Steps Up Their Game with NBA 2K13
Each year video games try to go above and beyond last year's version which is why you need to keep yourself updated with all these latest video games. For that, you can try PKV Login that offers you all the latest gaming updates and trends. Saying NBA 2K13 achieved that goal would be an understatement. 2K Sports has put together a very high-quality video game. The gameplay, soundtrack, graphics, and voice command (yea I said voice command) make this year's version a must-have for any gamer who loves sports games. From top to bottom fans of the NBA 2K will be completely happy with 2K13. 2K Sports has teamed up with Jay-Z for the soundtrack. Nike and Team Jordan are still part of this game for clothing and shoes as well as Reebok, Adidas, and Converse. Under Armour and Spaulding is a new addition to this year's version. Plus we can now settle the debate of who would win in the ultimate Dream Team game. You can play as the 1992 team or the 2012 team and battle for bragging rights.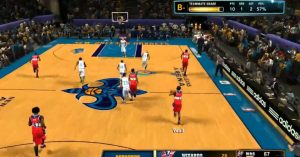 Gameplay: A+
I played the Xbox 360 version with Kinect and I was able to be a coach from the couch. I told the Dream Team to go from a 2-3 zone to a man-to-man defense using my voice. Plus if you have a quick temper and yell at the game for a bad call, the refs might decide to give a technical. That was the funniest thing that ever happened to me playing a video game.
The right analog control stick allows you to perform more intricate moves while dribbling up and down the court. You are able to fake out your opponent with a killer cross over or go between the legs. Anything that you see on a real live NBA game you can probably mimic in 2K13. In past versions, it was hard to steal a pass from the opposing team, but now you can move in the passing lane and steal the pass and start a fast break for an easy bucket. You can even be more successful in taking charge and blocking shots. The game developers also made a conscious effort to give all-stars a one up on the rookies and the benchwarmers with more attributes and faster response time in the game. Plus if you yell out pick and roll, a teammate will listen to your command and move into position to set a pick.
Graphics: A
From the moment the game starts to actual gameplay you instantly feel like you are watching an NBA game on TV. Each player looks like their real-life inspiration and has their signature moves. The crowd is interactive with how the game is progressing. Players move up and down the court with purpose and 2K Sports made sure that each pass, shoot, block, and dunk looked real.
From a player's headband down to their kicks the development team made sure each player looked real and their movement looked right. The coaches and players on the bench look like they are watching the game. The cut scenes to a replay or when a quarter is finished is solid as well and transitions just like a real NBA game.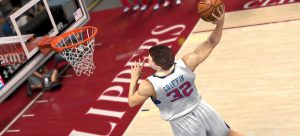 Sound: A
With Jay-Z in control of the music you know this year's soundtrack will be solid. He brings music from Nas, Eric B. and Rakim, Coldplay, U2, Mobb Deep, and Daft Punk. Aside from the killer lineup of musical acts, the sounds in the game are true to life. From a ref's whistle to the squeak of the sneakers on the court you can hear the attention to detail. Kevin Harlan, Steve Kerr, and Clark Kellogg are the men in the booth giving the play-by-play as Doris Burke gives the sideline reports. The banter is not the same dialogue that is has been in the past. They make observations that are different from one game to the next.
Extras: A
There are many great other features in 2K13. For me, as a sneakerhead, I was really excited to see Jordan Brand still a major player in the game. You are able to create your own shoe and put them on the player that you created in the My Career mode. Plus you can go to Nike.com and make a real-life shoe that you created in the game. The better you perform in the game you will be allowed to get endorsement deals. You might get an invite to the secret sneaker lab with legendary sneaker designer Tinker Hatfield to make an even sicker shoe.
In My Career mode, you gain virtual currency to add more skills to your game and also purchase on and off the court accessories. You can also purchase and develop your own pregame rituals as you advance in your career. This game will keep you busy for a long time. If you are playing in a career mode or just playing as a team for a season you will not be bored. Sometimes gamers wait for next year's version. This is one game you don't want to sleep on. It is a fun and very addictive game.